On-Target Performance Ratings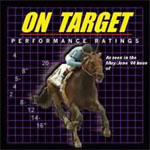 Overview
On-Target Performance Ratings provides valuable data to help you unlock more profits at the races by taking ordinary speed figures a step further. Arm yourself with superior data and unlock your full profit potential with the most accurate thoroughbred performance ratings on the planet.
For even more information, see the details tab below.
Features

Key features of this product include

• Performance Ratings
Computer calibrated on a nightly basis using a revolutionary new and proprietary method.

• Early Pace Ratings
Designed to reflect early speed in recent races, on the same scale as performance ratings.

• Pace Flags
Quickly assess the shape of today's race by adding up the flag symbols.

• Pedigree Ratings
Sires and Damsires will be rated on a scale typically from 0 to 100.

• Graded Jockey & Trainer Analysis
Replaces trainer patterns and win percentages with simple grading from A-F.

Pricing

Billing options for this product

A la carte - No minimums, billed as used
Unlimited subscription - No overages, unlimited usage

Details

Information and explanations about this product

Detailed Description

Welcome To On-Target Performance Ratings

Attention Handicappers,

Version two of On-Target Performance Ratings (V2) has been released. I want to thank everyone who held interest in this product while it went through what became a decade-long R&D process. Please accept my apology for the delay, believe me, I never expected it would take this long to complete. Probably as far back as eight years ago I was telling people it would be ready soon -- wrong! The research brought unforeseen and in some cases insurmountable challenges which required hitting the 'reset' button at least three times over the past ten years. This note would turn into an e-book if I were to go deeply into that and it's close to an e-book already, so let's leave it for another time.

The last thing I would want to happen is to blindside current subscribers by not providing any notice regarding what's about to take place. Here's what you need to know right now, here's what will change with the On-Target format by the end of this month:

Changes to the performance ratings...

First and foremost of the changes you should be made aware of concern the performance ratings themselves. While the rating scale will remain the same, drastic changes have been made to the calculation methodology. The new ratings are produced in a far different manner from any I've come across before. My first thoughts concerning a rating method of this type probably go back to the late 1980's and early 1990's, however during that time I was unable to get my head around how this concept could be implemented. So what's different? Unlike the old ratings (let's call those ratings V1) V2 ratings will no longer feature a built-in adjustment for pace. I'm not implying this is an improvement, because I still believe pace impacts performance, but it's a change you should be made aware of. I realize the change probably comes as a surprise to many people as the built-in pace adjustments had been the primary element differentiating V1 ratings from others in the marketplace. Let's talk about some real critical differences now. Fractional times, final times, par times, speed charts and track variants will no longer be utilized in any part of the calculations. On-Target Performance Ratings will no longer be 'speed figures'.

A question some of you might be asking is, if these new ratings aren't speed figures, what are they? Well they're still performance ratings, however I would equate these performance ratings to something Pittsburg Phil might have held a favorable opinion of (conceptually anyway) -- in the sense that who beat whom, by how much, and at what weight is the underlying basis for all of the ratings – these inputs along with several others such as distance and surface are refined using proprietary conversion algorithms and ultimately modern technology generates the final output. This is a mechanical rating method; however it requires a computer to crunch the numbers down to the desired accuracy. Don't be fooled into thinking this departure from the clock must result in crude unpolished numbers. I believe you'll find that isn't the case at all, in fact V2 ratings undergo hours of recalibration on a nightly basis so you can expect to have the most precise and up-to-date ratings available.



About the new format...

The V2 format is largely the same as before in the sense that ratings are graphed and placed on a sheet-style scale with the lower the rating indicating the better performance. One big issue some players had with the old format is it only displayed a horse's last ten ratings. That really had to change with V2 and it has. There will now be as many as 36 ratings per horse. The downside is displaying 36 ratings from one horse in landscape format takes up the entire page. So if you've been printing out your PDFs and taking them to the track, paper consumption will increase substantially with this product, and worse, ink can be costly as well. I recommend getting one of those whiz-bang tablets if possible and try to move away from hard copy. Make sure it displays PDFs in landscape mode without any problems. To give you ballpark numbers (a quick check) -- what was once 18 portrait mode pages will soon become approximately 51 landscape pages. Even if we print in duplex mode, more than 25 sheets is a lot of paper to handle. Your choice of course on the printing aspect -- I personally love to work with hard copy, but I can see I'm probably going to end up tablet shopping for this product.

As I stated above, the format from a high-level perspective isn't radically different. Although there are a few things you might call enhancements, some things have unfortunately gone by the wayside too. One thing I will call an enhancement is the addition of pedigree ratings. Sires and damsires are rated on a scale from 0 to 100 (a few go above 100 actually) these are on a scale where the higher the rating the better, and in addition to the overall pedigree rating a few categories are displayed (Turf\Route\Mud) that will hopefully assist in making those close calls when horses are facing new challenges. (Note: Pedigree ratings are only displayed when sample sizes are large enough) Please understand as well, these are not some third-party pedigree numbers dressed up on another scale and imported. Every rating you see on this new format is being calculated in-house on a nightly basis. If anything doesn't work you should blame me. (Don't hesitate to email me if you feel something isn't looking right, I appreciate you taking the time to notify me so I can investigate further.)

Another change I'm going to call an enhancement is the early pace rating. Recall on the V1 format Quirin-style early speed points were displayed for each horse, I've replaced these with an actual pace rating which is placed on the same scale as the performance ratings. Somewhat tying into this is a class par that will be provided at the top of each horse's record in most races (the class par will be absent only when sample sizes are insufficient). Whenever a class par is available, probable pacemakers will be noted with a flag symbol above the pace rating if it's deemed to be close enough to the actual pace par (which will not be shown). This can be useful in situations where let's say four or five horses are showing the pace flag. In such cases you can usually expect an fast early pace will develop. One thing remains in common with Quirin-style early speed points and that is the V2 pace rating will typically be derived from not one but several of the horse's recent races. I would say the real enhancement then is actual performance is now being measured here and a rating is being provided which is placed on the same type of scale as the horse's other performance ratings.

Trainer and Jockey stats have changed, you could say they've disappeared entirely but that's only partially the case. I've taken more of a minimalist approach to these. Trainer and jockey now receive a simple letter grade A-F, and the Trainer grade is intended to be specific to the type of situation the horse fits into today, i.e. if the horse is coming off of a Layoff, you will see the Trainer's grade only with Layoff horses. If the horse is a first time starter, the grade you'll see will be for that scenario; otherwise you'll typically see the default grade which is the Trainer's grade at this track. (Note: A trainer's grade with horses coming off the claim is not provided) For the jockey it's different, here you will not see a grade associated with any particular category; the jockey grading is only specific to this track. The leading jockey then at any track (major or minor league) will likely receive an A grade. For some people this is going to be too minimalist, I can understand that, but right now this is the best I can do, the amount of calculation going into these grades is more than one might expect.

This brings me to what we've lost on the V2 format including some outstanding issues to be aware of... a lot of these omissions are due to technical issues and some might make it back eventually. Morning line odds, gone for now, may come back eventually. Beaten lengths are gone, recall for V1 the first call and finish beaten lengths were on the format but now only the positions remain. I've contemplated putting the lengths back on because I'm used to them being 'there' however it's actually more complicated than it seems and I'm not sure it's worth the pain right now (maybe later). Workout rankings are gone, on the plus side instead of just the most recent work since the last race I've added the three most recent works since the last race, however I lost the associated workout rankings which is a bit of a shame. Some trainers are not graded due to a mismatch in the name between my source files for charts and my source files for entries. I've reached out to Trackmaster to help resolve this. It's still an on-going 'bug' with a small but significant percentage of trainers but it should be resolved soon.

Foreign horses; When you see a foreign horse has shipped in and is entered in a North American race (you'll obviously see some entered at the Breeders Cup) there won't be any ratings provided for a horse's overseas races at all, or even any basic info for its past races, you might see lifetime wins places and shows in the header but that's about it... This is because I'm currently only sourcing Trackmaster charts for North American Thoroughbred races period. Maybe this will change someday because I would like to rate international racing with this methodology if compatible charts can be sourced by Trackmaster, but it probably won't be anytime soon. With that being said, please don't call in to report files as defective if they happen to contain international races in them -- unrated horses in these races it's the expected output right now, and I'm currently unable to prevent these files from being uploaded.

Mixed-breed races which allow Quarter horses and Thoroughbreds to compete in the same races are also not being tracked so it's quite possible that a Thoroughbred's record might be missing some races that were carded at misc obscure tracks. A horses mud, distance and turf record 'box-score' has been lost, however with 36 races now at hand you can probably see most of what you need to see with respect to these scenarios. I think we can agree the performance ratings earned under those types of conditions are the relevant data points anyway, regardless of what the finish positions were. (To mitigate this loss, prior race distances are set in bold type whenever matching today's specific distance/surface)

Situations to watch out for...

There are weaknesses in all rating methods and these V2 ratings are no exception, however in our case the weakest scenario is well understood -- lightly-raced horses will have suspect numbers. For example a horse that made its first lifetime start just a few weeks ago against a group of others which also ran just once before or even not at all, has such a limited amount of demonstrated 'class' available to get a handle on that any V2 rating earned at this point in time is going to be highly suspect. For horses coming out of races like this, prior numbers will likely shift substantially early in the process as more information is made available. It will take some time before these early efforts are properly calibrated. With this product I advise using caution in races like this. It's probably best to wait until the horses have been competing for a longer period of time. All of the horses should have three, four or five races under their belts before you can have confidence in assessing their form cycles via prior efforts. If you feel you're totally missing out on betting these types of races then you should possibly look to competing products which are final time based as they might hold an edge on us in these situations. Another aspect which is quite different with these ratings vs. time-based speed figures are that a horse's age is now largely built into the rating. That is, a horse's ratings at age two let's say can be compared directly with its ratings at age four or older. Consequently assessing whether or not a horse has progressively declined or improved with physical maturity becomes easier as the 'line' you're reading is not being influenced so much by speed increases which occur naturally from age two to four. I suspect the pure speed handicappers are scoffing right now but when you understand these ratings are intended to indicate the degree of effort with respect to a horse's competition as opposed to indicating the fastest final time then it starts to make more sense.

Why release a second version at all?

This could've probably been at the top of the page but anyway let's close out with it. The V1 ratings while not so bad were all too often not up to my standards. Any handicapper I've known over the years will recall my obsession with superior information, whether it was working to create excellent speed figures for myself or working to have great insight into the trips of horses, I've always believed to secure a profit (especially with the kind of 'take' we play into) you have to have rock-solid information. As time went on there were some accuracy issues with the V1 ratings that I couldn't stand for. A follow-up version was planned to address all of those issues, however when research was near completion I determined that one or two key issues (frankly issues mostly out of my hands) couldn't be resolved. Seven years into the research I'd arrived at what appeared to be excellent solutions for pars, wind and pace adjustments but with those other issues still outstanding that research was abandoned and another path was taken. I never expected it to take the radical turn that it has, but frankly I'm excited because what we have right now is something unique.

Summary of Changes

- On-Target Version 2 ratings – Computer calibrated and finely honed on a nightly basis using a revolutionary new and proprietary method. The V2 performance ratings quantify the level of a horse's effort relative to the quality of its opposition, all while leaving published time out of the calculations.  Poised to become a strong challenger to traditional speed figures.

- Up to 36 performance ratings per horse - Condition cycle analysis now becomes much more practical with the ability to assess a horse's overall development from a higher level perspective.

- Early Pace Rating – Immediately zero in on the likely frontrunner and / or rank the horses by pace rating estimate the early positions of the entire field with relative ease. Replaces Quirin-style early speed points with an all new rating designed to accurately reflect demonstrated early speed in recent races. Placed on the same scale as the performance ratings.

- Class Par - Has the horse earned a number equal to or better than today's class par?  Did today's race come up particularly weak or strong for the class?  Know what the true class par is while having up to 36 races to see if a horse really fits at this level based upon prior top efforts.

- Pace Flags – Quickly assess the 'shape' of today's race by simply adding up the number of horses displaying a flag symbol above the pace rating. A race with four or five 'flagged' horses going to the post can be expected to produce an honest-to-fast early pace.

- Pedigree Ratings - Sires and Damsires will be rated on a scale typically from 0 to 100.  Which horses are the best bred horses in the race?  Which horses might prefer turf, mud or even taking on a longer distance?  Start leaning in the right direction more frequently by making our pedigree ratings a slice of your handicapping analysis. 

- Trainer and Jockey Grades – Replaces trainer patterns and win percentages with simple grading from A-F.  For example, a particular trainer is typically strong with first time starters and the horse is making its career debut today. Expect to see a grade of A. How about if the horse is coming off a layoff?  In that case the grade is only calculated from the trainer's record with layoff horses. Otherwise by default expect to see a grade specific to the trainer's record at this particular track. Minimalist approach, yet still effective.

- More tracks available than ever before!  - Become a monthly unlimited subscriber and download all available tracks for a reasonable price.  More tracks are being added, feel free to request your favorites.

Software

This product may require the following software

Click here and follow the instructions to download the Adobe Acrobat Reader software for viewing pdf files.