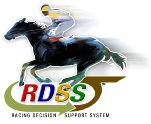 Overview
RDSS-Racing Decision Support System™ is the Modern Sartin Methodology and it's available NOW to the general public. RDSS is based on a full-race analysis of the horse's velocity, pace and incremental energy disbursement and deceleration.
RDSS is comprised of three key components:

Software - Professionally designed application with free 30 day evaluation.
Support - Annual license fee gives free upgrades and support from the developer.
Data - Choose the Past Performance Only or Past Performances & Charts product.
Features

Key features of this product include

• Early vs Late Energy Analysis
Using detailed pace and final time compounded velocity figures, variant adjusted.

• Accurate Odds Line
Bottom Line/Betting Line odds line and contender ranking.

• Real Time Odds
The software boasts a live connection to the toteboard for up to the minute data.

• Fast & Flexible Interface
Auto download and export module for sending decision modelling data to spreadsheets.

Pricing

Billing options for this product

A la carte - No minimums, billed as used
Regular subscription - 20 downloads per calendar month, overages $1.25 each

Unlimited subscription - No overages, unlimited usage

Details

Information and explanations about this product

Detailed Description

Welcome To RDSS – Racing Decision Support System™

Many people know something about the Sartin Methodology from early 90's classics like Brohamer's "Modern Pace Handicapping" or "Pace Makes The Race", but many more do not know how far beyond these initial ideas Dr. Sartin progressed. RDSS is based on a full-race analysis of the horse's velocity, pace and incremental energy disbursement and deceleration. It embodies the principles of the matchup: how the horses will compete against each other in today's race, given their herd positional tendencies and their innate "energy" abilities, together with the specific demands of today's track, distance and surface. The Sartin Methodology is more relevant than ever in conquering today's races.

For a more complete description and discussion of the RDSS components and their usage, please visit the Sartin Methodology website: www.PaceandCap.com


Product Key

This product is available in the following formats:
(Click to view a description of the layout/schema for each option)

RDSS - A colorful, intuitive user-interface, plus much, much more!


Product Reviews

RDSS Review by Howard Sartin

For the past 25 years, Howard Sartin has been widely regarded as the "godfather" of modern pace and velocity handicapping, and a teacher whose students have themselves become horse racing authorities. RDSS is based on the precise formulas of Dr. Sartin's later software programs and is the only modern software endorsed by Dr. Sartin before he passed away in 2009.

"RDSS has been described by its users as a 'can't lose' program and this echos my own evaluation. I've watched the program grow to maturity for over a year and it is, without doubt, the very best tool ever provided for computer handicapping. The greatest obstacles to winning are the selection of worthy contenders, pacelines and mutuel payouts. These obstacles can be readily overcome by handicapping veterans and novices alike through the software's built-in instructions, video tutorials, website forum, live online seminars and telephone support, backed by TrackMaster's Past Performance and Chart data, and always by one's own diligent effort.

The torch has been passed. RDSS is making it burn more brightly than ever. In any economic future it will produce higher win percentages and mutuels than ever before. Were I not bed ridden, I would be standing next in line to get this program. A truly magnificent piece of work – the future of the Sartin Methodology!



Read Dr. Sartin's full review of RDSS

RDSS Review by Mark Cramer

Read Mark Cramer's Bottom Line Betting Line research report.



Software

This product may require the following software

Step 1.  Review the RDSS Getting Started page at the Sartin Methodology PaceandCap.com website. This introduction to RDSS explains how to download the software and demo data, and reviews the TrackMaster data pricing and the annual RDSS software subscription.

Step 2.  Watch as many tutorial videos as possible.  This is where you see RDSS in use, learn how to retrieve data, navigate the software and begin the handicapping analysis process.

Step 3.  Register at the Sartin Methodology PaceandCap.com website.  Registration gives you free access to the extensive Sartin Methodology Library including all issues of the Follow Up journal, older manuals and audio seminars from 25 years of the Sartin Methodology plus technical and educational support.  You need to Register before you can download the RDSS software.

Step 4.  Request access to the RDSS software download. Send an email to support@sartinmethodology.com with your name and your PaceandCap registered user name and we'll get back to you, usually within a few hours, 1 day at the latest.

Step 5. Download, install and register the RDSS software.  Evaluate it free for 30 days, including the extensive demo database of 5000+ races, then subscribe to the software for just $100 per year.

Step 6.  When you're ready to handicap live races, you'll need a TrackMaster RDSS data plan, either PPs only or PPs plus full charts.  Use the built-in RDSS data centre module to download race files from TrackMaster.

Step 7.Subscribe to the RDSS Software.  Just $100 per year after your free 30 day evaluation, the annual software license covers all upgrades, bug fixes and technical support.


Help

Help guides and technical support for this product




Important Product Announcement

RDSS 2.0 is here! A major rewrite of the original, RDSS 2.0 features exciting record-keeping and tote modules, NewPace, MPH analysis, Matchup analysis and much more. Your annual software subscription automatically covers this upgrade and all future upgrades.