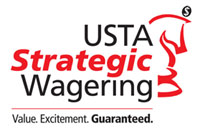 The U.S. Trotting Association, in cooperation with its member tracks, has announced the "USTA Strategic Wagering" program, designed to provide value to horseplayers by guaranteeing the size of designated betting pools. The program features guarantees primarily on pick 4 and pick 5 wagers. The schedule includes various racetracks throughout the country. Please see the USTA web site for the complete official schedule as well as strategic wagering analysis and selections plus a handy pick 4 wager calculator. Good luck!

Platinum Past Performances
TrackMaster Platinum Past Performances takes you above and beyond the regular track program with exclusive handicapping information, all while still staying true to that traditional look and feel you already know.
| | | |
| --- | --- | --- |
| Thursday, June 8, 2023 | Hoosier Park | PDF |
| Thursday, June 8, 2023 | Running Aces | PDF |
| Friday, June 9, 2023 | Hoosier Park | PDF |
| Friday, June 9, 2023 | Meadowlands | PDF |
| Saturday, June 10, 2023 | Meadowlands | PDF |
| Saturday, June 10, 2023 | Northfield Park | PDF |
| Saturday, June 10, 2023 | Saratoga Harness | PDF |
| Sunday, June 11, 2023 | Northfield Park | PDF |
| Sunday, June 11, 2023 | Running Aces | PDF |