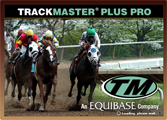 Overview
TrackMaster Plus Pro is our extremely popular, top-of-the-line handicapping software program. Exclusive ratings and statistics make it the most powerful and comprehensive product available.
Start handicapping the faster, better way with TrackMaster Plus Pro! The software is FREE and contains a demo data file race card to get you started.

Warning: This is legacy software and may not perform properly on newer computers or operating systems. STATS Race Lens is the most comprehensive and updated software product available.
Features

Key features of this product include

• Multiple File Formats
Enhanced PDF past performances, performance cycles and XML data files also included.

• Speed Figures & Class Ratings
Exclusive speed figures & class ratings help you quickly and easily handicap the races.

• Custom Power Ratings
Identify top contenders using our ratings, or create your own with various custom weights.

• Pace Analysis
Analysis of pace styles and figures for the early, middle and finish of a race.

• Jockey, Trainer & Pedigree Stats
In-depth jockey, trainer, sire and dam analysis of many categories and handicapping angles.

• Lifetime Past Performances
Career past performances for all horses, including complete result charts for all their races.

• Sorting & Filtering
Sorting and filtering options for detailed jockey, trainer, sire and dam analysis in the PPs.

Pricing

Billing options for this product

A la carte - No minimums, billed as used
Regular subscription - 20 downloads per calendar month, overages $2.00 each

Unlimited subscription - No overages, unlimited usage

Details

Information and explanations about this product

Detailed Description

Welcome To TrackMaster Plus Pro

TrackMaster Plus Pro software gives you all the enhanced handicapping information you need to play the races. Along with a series of performance ratings, you will find a wide range of categories of information and organizational tools. The data for jockeys, trainers, sires and dams is unprecedented. The exclusive custom power ratings option even allows you to design your own weightings. All of this and much, much more designed to make your day at the races more profitable awaits.

The updated race card files are accessed directly from inside the software program installed on your computer. They are available for download 24 hours a day, often several days ahead of the races depending on the track schedule.

Special Features Of TrackMaster Plus Pro

PRINTED PAST PERFORMANCES

TrackMaster Plus Pro includes PDF printed platinum past performances in multiple formats that can be downloaded from our web site. They include 12 past performance lines, ranked workouts, conditional jockey and trainer stats, pace figures, power ratings and key race stats are shown at the bottom of every race.

XML DATA FILES

The XML data files contain all the information in Plus Pro, but in a file type specific for those looking to use in their own programs. Due to their size, these files are zipped up and will need to be extracted to use in a .xml format.

COLUMN SORTING

Sorting is a powerful tool for handicappers to use. Nearly every column of information in TrackMaster Plus Pro is sortable. Simply click the top of a column of data and arrows will appear to tell you the order in which the column is sorted (ascending or descending). Click again, and the data sorts in the other direction.

SELECTIVE DISPLAY

TrackMaster Plus Pro displays information to allow you to compare horses head-to-head in selected categories. For example, once you have decided that a particular horse in the race is no longer of interest you can hide that horse's information to allow you to focus on the other horses of interest.

HORSE COMMENTS

Enter in personal notes you may have about each horse. The information will be displayed beneath the workouts and analysis in the past performances or can be edited/viewed by clicking on the horse comments icon. The comments are saved for when the horse runs in the future and can be edited by clicking on the horse comments icon in the details section.

POST-RACE NOTES

Enter three different types of notes: horse notes, race notes and race day notes. These notes will be displayed in the running lines when the horse runs in the future. Horse notes pertain to an individual horse. Race notes pertain to a particular race. Race day notes pertain to a specific race card. You also have the option of adding these notes via the charts.

PERFORMANCE RATINGS

TrackMaster produces several different kinds of ratings. Speed figures are for horses and measure performance in a single race. Class ratings are for races and judge the level of competition. Power ratings are for horses and are weighted averages of several different handicapping factors. Pace figures are similar to speed ratings, only they measure the individual fractions of races. For all ratings, the higher the number the better.

- SPEED FIGURES: TrackMaster assigns a speed figure to each horse's race, where there is enough information to accurately do so. These figures tell you how fast a horse has been performing. It is based on the horse's actual time and other factors, called variants, such as the composition and condition of the track.

- CLASS RATINGS: TrackMaster assigns a class rating to today's and historical races. The class rating for a race is made up of a weighted average of the previous speed figures from the horses entered in that race. The number is basically a projection of what the expected winning speed figure would be for that particular race.

- POWER RATINGS: The TrackMaster power rating is an overall indicator of the horse's potential profitability, combining the components of speed, class, pace and various other handicapping factors, updated using algorithms to maximize their effectiveness.

- PACE FIGURES: Pace figures are computed using the same fundamentals as speed figures. The difference is that pace figures are calculated for fractions of a race and not the entire race. An average early, middle and finish pace figure is shown for every horse.

Click here for details and an important notice about our exclusive ratings.

SNAPSHOT

In addition to the TrackMaster power rating, this primary section presents a summary of the key pieces of information for each race, such as essential program information, the best speed figure each horse has run at today's distance and surface, as well as a horse's record at today's distance and surface.

DETAILED STATISTICS

TrackMaster Plus Pro also contains detailed stats for jockeys, trainers, sires and dams. These stats are accessed by clicking on the name of the jockey, trainer, sire or dam in the past performances and then clicking on detailed stats from the summary statistics box.

LIFETIME PAST PERFORMANCES

In addition to the printed pdfs listed above, you'also ll receive each horse's lifetime past performances plus the full result chart associated with each. You can also filter the past performances to see only the data you want. Here is a list of the available filters:

- Distance
All
Today's
Today's Plus ("Plus" is user-defined and addressed below)
Sprint
Route

- Surface
All
Dirt
Turf
Dirt (excluding All-weather Tracks)
All-weather

- Track Condition
All
Fast/Firm
Off Track

- Early Pace
All
On the Lead
Within Two Lengths

- Recency
All
Within 15 Days
Within 30 Days
Within 45 Days
Within 60 Days
Within 90 Days

- Medication
All
Today's Lasix
Lasix
Bute
Lasix & Bute

- Jockey
All
Today's

- Trainer
All
Today's

- Track and Surface
All
Today's

- Class Ratings
All
CR greater than or equal to today's CR
CR within 5 points of today's CR
ESF (Equibase Speed Figure) greater than or equal to today's CR
ESF within 5 points of today's CR
User defined CR/ESF range

ODDS CALCULATOR

The odds calculator allows you to compute what payoffs should be. For example, in a daily double you pair a horse with 9-5 odds with a horse with 2-1 odds, the payoff odds are 9.5: 1. That is, a $2 bet will pay $21. By comparing the should pay with the actual pay out received if your combination comes in, you can see if your bet is a good value or not. Making good value bets will help improve your profits over time.


Feature Comparison

TrackMaster Plus Pro vs. DRF Formulator

Take a look at this comparison of the features included with each software and decide for yourself which handicapping product you should be using.


| FEATURE | DRF FORMULATOR | TRACKMASTER PLUS PRO |
| --- | --- | --- |
| Lifetime PPs | | |
| Lifetime Result Charts | NO | |
| 1 Year Jockey Analysis | NO | |
| 5 Year Trainer Analysis | | |
| 5 Year Sire Analysis | NO | |
| Lifetime Dam Analysis | NO | |
| Power Ratings | NO | |
| Track Bias Data | NO | |
| Printed PDF PPs | NO | |
| Mobile App Access | NO | |
| Video Replays ($) | | |
| Much, much, more! | NO | |

Product Key

This product is available in the following formats:
(Click to view a description of the layout/schema for each option)

XML Data File - A single data file using a simple and flexible text-based programming language for data exchange. Click here for a translation of the xml data fields.

Platinum PDF - Up to twelve running lines and workouts per horse, generally making it two pages per race. Includes horse sales data and trainer changes and claim information appearing on the line after.

Bias PDF - All the same features of the standard version with the addition of TrackMaster Track Bias data displayed after the company line.

Pace PDF - All the same features of the standard version and bias version with the addition of pace figures instead of leader's times in the running lines.

Performance Cycles PDF - A graphical look at the history of a horse's performances with insights regarding how well the horse should perform today.


Software

This product may require the following software

Click here and follow the instructions to download and install the TrackMaster Plus Pro software.

To install this program, launch the setup file downloaded from above and follow the on-screen prompts to automatically load the software.

Note: If you have a previous version of the software already installed, it will automatically be removed and updated.

View a list of updates and changes made to the TrackMaster Plus Pro software below.




Help

Help guides and technical support for this product




Important Product Announcement

TrackMaster Plus Pro subscribers - Download a race card as you normally would and get the same race card for the Pocket/Tablet Handicapper at NO additional charge!