contest registration
play the contest
picks & results
rules & regulations
contest help
contest home


SPONSORED BY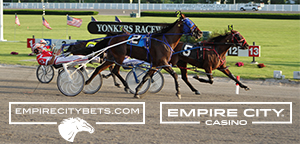 5 weekly chances to participate, 10 finalists advance each week, with $10,000 in cash up for grabs!

Tuesdays from November 19th through December 17th, handicappers will test their skills to qualify for a spot in the finals on Saturday, December 21st and a chance at taking home the ultimate prize in the $10,000 Yonkers Empire City Bets free harness contest.


A one time registration is required, where you'll be assigned a user id and password used to log in to the contest area. Even if you have played in past contests, you will need to complete the registration again.
There will be 5 qualifying rounds with each week a brand new contest where you'll have a bankroll of $160 to make exactly 8 win wagers at $20 each on Yonkers races. TrackMaster will be providing free past performance program data or expert analysis reports throughout the competition inside the contest area, a different product offering each week.
WEEKLY WINNERS

-
The top ten winners each week, including ties, will gain entry into the final round.
There is also a weekly prize pool: 1st) $500 2nd) $250 3rd) $200 4th) $150 5th) $100
FINAL ROUND PRIZES-

1st) $2,500 2nd) $1,000 3rd) $ 500
The finals will be comprised of the top 10 final bankrolls from each of the weekly rounds (including ties). Once you have earned a spot in the final round you are not eligible to earn another. You are not required to play each week, but are welcome to participate in each of the preliminary rounds.
Contest wagering windows for the preliminary rounds open at 3:00 pm Eastern time on the Sunday prior to, and close at 5:00pm Eastern on the contest Tuesday. For those that qualify, the final round will open on Thursday (12/19) at 3:00 pm Eastern time, and close on Saturday (12/21) at 5:00pm Eastern.

For cash prizes, in the event of ties the tied players will total their places and split the prize money equally and the next highest bankroll will win the next place prize. For example: if two (2) players tie for first place, the first and second place prizes will be totaled and divided equally between those players, and the next highest bankroll will win the third place prize.
There is a cap on win payouts of 20-1 when calculating the final bankrolls.
THE ROAD TO THE FINALS ON

SATURDAY DECEMBER 21ST

WEEK
DATE
1ST/2ND PLACE
3RD/4TH PLACE
5TH/6TH PLACE
7TH/8TH PLACE
9TH/10TH PLACE
1
11/19/13
Crazy666
847.00
tonyb147
842.00
pressplay5
760.00
davidgambo
726.00
ohiohrsrcr
710.00
jersteff6
843.00
mischiff
840.00
htoddy
742.00
REI02
726.00
Yankee
683.00
2
11/26/13
ONGAITSTABLE
615.00
jamesdam
568.00
dan1945
529.00
rudy30
523.00
1958
480.00
Aries
600.00
BrendaHogan
558.00
jveneziano
528.00
dilcher19
506.00
RobertEmery / believeit27 / pbunny
472.00
3
12/03/13
thebigm
702.00
batesmotel
619.00
valf
590.00
hapsracing
577.00
magicalmatthew
566.00
Roxygirl
620.00
acecapper
615.00
bucknaked
587.00
moelarrythecheese
574.00
keithcottons
555.00
4
12/10/13

RACING CANCELLED - NO CONTEST THIS WEEK

5
12/17/13

RACING CANCELLED - NO CONTEST THIS WEEK